August 30, 2016
App Tamer 2.2 adds compatibility with Sierra and improves performance significantly
This version is a free update for App Tamer 2 users. Please note that if you still have App Tamer 1.x, this is a $7.95 paid upgrade if you purchased version 1.x before July 1, 2013.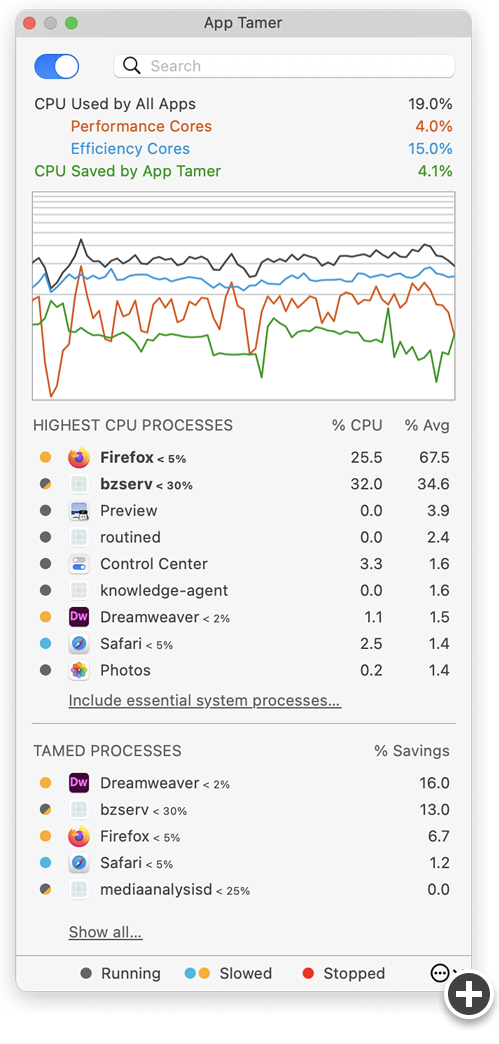 What's new in App Tamer 2.2
Compatible with macOS 10.12 Sierra.
Improved App Tamer's efficiency when managing lots of processes.
Made App Tamer much more intelligent about stopping and starting helper processes such as Safari Web Content, Safari Networking, Google Chrome Helper, etc.
Made contextual menus (when clicking on processes in App Tamer) behave consistently.
Fixed problems with text not fitting correctly when running on French systems.
Why upgrade to App Tamer 2 if you're still using version 1.x?
AutoLimit
As an alternative to completely stopping an application when it's in the background, you can now put a limit on the amount of CPU an app can use.
You can limit Mail, for example, to use no more than 10% cpu. It will still download your new messages, but won't tax your computer while you're doing something else.
This lets you manage many more applications than you could with App Tamer 1.x, because it works with virtually any app, even those that need to run in the background.
New User Interface
You can now get everything straight from the menubar. Click on App Tamer's icon to see CPU usage, what App Tamer is doing and to change settings for your applications.
Hover over an app to see it on the graph. Click on it to change its settings.
The colored squares show you what App Tamer is doing.
Use the utility menu (the gear icon in the lower right corner) to change preferences, get help, buy App Tamer or quit it.
Improvements Throughout
The engine that manages your applications has been streamlined, enhanced and refined since version 1.x to make saving CPU and battery even faster and easier.
What about App Nap?
Mavericks and Yosemite provide some power-saving features on their own, but App Tamer goes well beyond these.
Upgrading from Version 1.x
If you purchased App Tamer 1.x on or after July 1, 2013, the upgrade to version 2.2 is FREE. App Tamer knows when you bought your license, so you just need to download and run version 2. Your existing serial number will continue to work.
If you bought App Tamer before July 1, 2013, the upgrade to version 2.2 is $7.95. You can purchase your upgrade from our online store.
There's a free 15 day demo period so you can download it and try it for yourself!
Download Links

App Tamer 2.2
(a server will be selected for you automatically)
If you have trouble contacting our servers, please let us know at support@stclairsoft.com.